The world is generating a massive amount of data from a number of sources and being able to leverage this data provides great opportunities to improve data analysis and make better business decisions. Tableau is a robust tool for visualizing enormous sets of data seamlessly. It supports a wide range of data sources, has an easy drag and drop interface and helps to build interactive visualizations easily without much effort.
With the recent release of Tableau Version 2020.3 in August 2020, this data visualization tool is now infused with many other remarkable new features. Also, this latest Tableau version has the potential to take your data analysis to the next level with better dynamic parameters, relationship improvements, new background maps options and others to name a few.
Knowing more about the new features of Tableau version 2020.3
Enhancements to relationships
In Tableau Desktop 2020.3, you can now share tables based on disparity operators or calculated fields. With the enhanced drag and drop experience, you can drag and drop to replace a table in the data model. In 2020.3, you can create relationships based on calculated fields and compare fields used for relationships using operators in the relationship definition.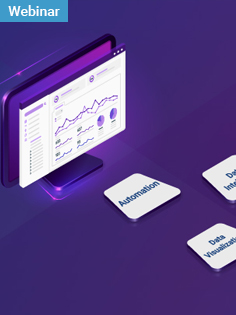 Let your data tell your business story with Tableau
Webinar agenda
Overview of Tableau and integrations
Various data visualization trends
Must have data analytics trends in 2021
Use cases and live demo
Present day examples/ case scenarios
Q & A
IN operator for calculations
Tableau version 2020.3 brings to you the IN operator for calculations making it easier to compare lists of values â€" whether small or large lists. Leverage the IN operator to test if a value matches any value in a list, combined fields like City/State combinations, or a set. The IN operator supports various data types such as numeric, string, data, tables and boolean. Besides, this Tableau version has upgraded the drag-and-drop experience in the data model.
Mapping improvements
Tableau in its latest version 2020.3 has integrated new options to the background maps menu and modernized the UI to make it even easier to add Mapbox maps, WMS maps and others. Moreover, the version also has the ability to union spatial files.
Comprise embedded files in the external assets list
Manage every asset in your environment through External Assets, counting tables and files that are inserted in workbooks. This offers a complete view of what data users are using outside of published data or content.
Also, Tableau Version 2020.3 gives you the ability to tag external assets in the Tableau catalog making it easier to identify the correct data by tagging external assets such as databases, columns and tables.
Tableau mobile for workspace one (iOS)
This feature is an update to the existing app that offers a rapid and secure way to view, analyze as well as use the data in your organization. The new app, compatible with iOS13, includes the latest design that is faster and more intuitive with an improved search and consistent browsing experience with Tableau Online and Tableau Server. Moreover, it enhances offline capabilities that are fast to load and offers visualizations that are rich and interactive.
Improvements in Ask data
You can now customize suggestions and even write the display text so that the language is more informal as well as comprehensible within your organization. Apart from that, refining absolute date filters can be somewhat difficult for which this version of Tableau provides support to create onboarding and curation resources accessible to Tableau Online users.
Grant license on sign-in
With this feature organization can now optimize their Tableau licences by facilitating users who need access to specific roles to derive insights for smart decision-making. The site admins can now entitle membersâ€"specific individuals, departments and teams, or even your entire organization and automatically provide a site role (Viewer, Explorer, Creator) when they log in for the first time into their Tableau Online or Tableau Server account. Also, now you can implement Tableau at scale without manually responding to license requests.
New 'Shared with me' tab
Via the 'Shared with Me' tab on the home menu, now rapidly access workbooks, projects and dashboards that others have shared with you on Tableau Online or Tableau Server all in one place. In addition, the customized views are automatically saved separately, so that you can navigate to the personalized view you need without wasting time.
To conclude
These are just some of the remarkable features of the new version of Tableau which are indeed interesting and helpful to derive insights from any kind of data and from almost any system with ease. Not just that, this latest version also covers a lot of enhancements of already present features that improve the user experience making data analytics powerful and seamless. As always, if you have any questions regarding this new Tableau version or want to develop a data analytics solution on the Tableau platform, get in touch with our Tableau experts.
The post Highlighting the new features of Tableau version 2020.3 appeared first on softwebsolutions.


Source : https://www.softwebsolutions.com/resources/features-of-tableau-version-2020-3.html